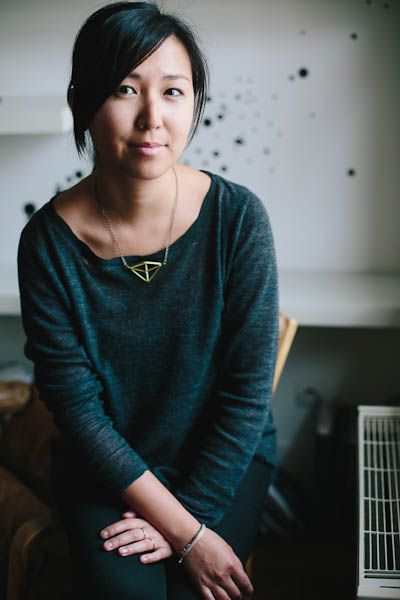 Before Sunset is a multi-disciplinary design studio launched by Naoko Nishizu-Audic in Paris, January 2013. The studio creates jewellery and objects, aswell as offering furniture design, interior design and architectural services.

Naoko is born in Japan, raised in England and Australia, and now calls France home. She has always been a keen illustrator and designer, and to become an architect was a clear path since her childhood years of moving and discovering new environments, cultures and people. As a practicing architect since 2004, she has worked on a diverse range of projects; from airports, art galleries, apartments, houses to restaurants. 
Whilst architecture remains her primary passion, smaller scale projects such as jewellery and object design has been a welcome creative outlet. The current collection involves a series of prismatic compositions, with the materiality of brass and leather chosen for its balance of masculine-feminine qualities to play in the delicate world of personal adornment. The pieces are handmade in her Paris studio, each with its own unique imperfections and characteristics.
Interview featured on Parisian Local for more insight into the Before Sunset studio.
Press Inquiries & Wholesale Inquiries

Be sure to keep updated via our news/blog for any promotions and offers.
Facebook & Tumblr

Big Thank You to the very talented...
Photographer : Yann Audic
Model : Juliette Oberti

--
Fondée par Naoko-NIshizu à Paris en Janvier 2013, Before Sunset est un studio de design multi-disciplinaire. Nous créons objets et bijoux, ainsi que mobiliers et offrons des services de design intérieur et d'architecture.
Naoko est née au Japon et a grandi en Angleterre puis en Australie, elle est désormais installée en France. Elle a toujours été une dessinatrice et une designer enthousiaste et devenir architecte était pour elle un choix évident depuis son enfance passée a découvrir de nouveaux environnements et cultures. Architecte depuis 2004, elle a travaillé sur des projets variés : aéroports, musées, appartements, maisons et restaurants.
Pendant que l'architecture reste sa passion première, elle s'implique aussi dans des projets créatifs à plus petite échelle tel que la réalisation de bijoux et d'objet . La collection actuelle de colliers et bracelets est construite autour de compositions prismatiques mélangeant métal et cuir et opérant un équilibre entre masculinité et féminité. Les différentes pièces sont réalisées dans notre studio à Paris, chacune ayant ses propres imperfections et caractéristiques !